SRS Blueprinted 411
Increasing the octane level does not gain a performance advantage in the S3 spec Hondas, but prevents engine damage from detonation.  Preventing the engine damage from detonation by increasing the octane level of the fuel will keep the current performance level, but reduce the spec Hondas' top end maintenance cost without changing the engine rules.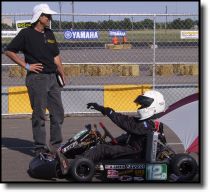 SRS Engines is the first of its kind, a National Level Race Kart Engine Builder in Texas. Since its inception in 1998 SRS Engines has evolved into a top tuner of Stock Honda CR125 engines for shifter karts, Yamaha KT100 engines for clutch karts and IAME Parilla Leopard and Gazelle Touch and Go (TaG) karts.
Untold hours of dyno tuning and track testing have resulted in engine packages that power national event winners. 2008 SKUSA Supernational through 2011 Springnational winners can testify that SRS Engines builds fast Honda CR125's that have the power and reliability to win national and regional races. SRS prides itself on delivering engines that duplicate those setups to all its customers.
Written by John Sefcik
Monday, 27 February 2012 00:00
SRS Engines Offers 2001 Honda CR125 Power Valve Plugs
Top performing, precision, investment cast power valve plugs for the 2001 CR125 cylinder are now available from SRS Engines.
The shape of the exhaust duct in the 2001 cylinder is critical to power production. The stock 2001 power valve shape sacrifices peak power to give the engine a broad motocross power band that has good response as low as 6000 rpm. Since stock 125 shifter karts operate above11000 rpm most of the time, they can ignore low rpm power in trade for power gains above 11000 rpm...
Last Updated on Wednesday, 07 March 2012 09:24
Read more...
Tuesday, 10 May 2011 00:00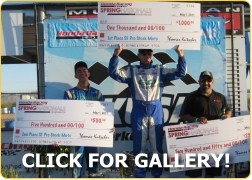 SRS Prepared stock Honda Engines powered 10 drivers to podium finishes at the recent SKUSA SpringNationals in Tucson, Arizona.


Separate race programs on Saturday and Sunday produced 5 winners in the Stock Honda classes and a very dominating 5 pole positions were captured in qualifying.


We would like to take a moment to spotlight the following drivers and their teams for a fantastic start to the new 2011 race season:


Read more...
Written by John Sefcik
Tuesday, 12 April 2011 16:30
Superior Fuel Delivery Unveiled
The All New SRS Engines Hybrid Float-Twin Pump Carb System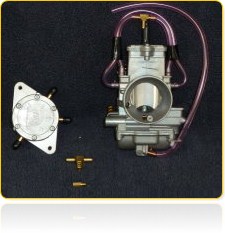 Testing is complete and the results are exceptional. Relative to the twin pump fuel re-circulating systems traditionally used today in SKUSA stock CR125 shifter karts, the new SRS Engines Hybrid Float-Twin Pump Re-circulating System performs better in every track test and dyno test we ran.
On the dyno the new SRS Hybrid system with the stock Keihin PWM38 carburetor showed a horsepower increase of 0.5 between 11000 and 12000 rpm with no negative side effects through the power range. The increase comes from refined control of the fuel mixture (i.e. the richness or leanness relative to rpm). In the former twin pump systems, the main jet and pilot jet could be used to alter the mixture curve to gain more performance in parts of the rpm range but not all. The SRS Hybrid system utilizes the stock float assembly to limit the fuel level in the float bowl to achieve the optimal fuel mixture throughout the power band.
Last Updated on Friday, 03 February 2012 19:44
Read more...
Thursday, 10 September 2009 00:00
| | |
| --- | --- |
| Hawkins, Texas. – 10 September 2009 - The dominant driving style of Jordon Musser was on display this weekend as he piloted his SRS Powered Stock Honda Shifter Kart to a flawless, flag-to-flag victory in the King of the Streets Feature Race at the Rock Island Grand Prix.  Along with Musser, fellow SRS powered drivers Chris Jennings and Nick Lucido were amongst the contenders  taking on the challenging  6/10ths of a mile temporary road course set on the streets of downtown Rock Island, Illinois. Despite the best efforts of fellow SRS powered drivers Chris Jennings, Nick Lucido and some of the best racers in the country, Musser would be untouchable taking the crown in the premiere class. | |
Read more...
Drivers have good days and they have bad days, so we won't make any real conclusions from this great in-kart video footage.  However, it is good fun to see how the two powerplants compare in a head-to-head duel!

 

Click the video to the right to see Jordon Musser's SRS Powered Honda CR125 take on the field at the SWRC #8 Race, held recently at Gulf Coast Kartway in Katy, Texas.  When you're finished watching some great racing, contact us about setting up your SRS Powered epic race!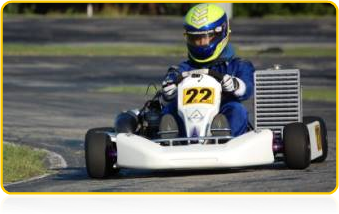 SRS Engines will be teaming up with the all new MJDrive Super Kart Challenge to supply power in the form of the engine builder's Stock Honda CR125. Founded by expert racing driver and instructor Michael Johnson, the MJDrive Super Kart Challenge puts drivers behind the wheel of a world class 125cc shifter kart and provides them with coaching to get the most out of themselves and the ultra powerful shifter kart.
Read more...
Monday, 29 June 2009 00:00
| | |
| --- | --- |
| Hawkins, Texas. – 26 June 2009 - In motorsport many elements make up the final performance package; driver, tires, chassis and engine. In road racing with wide open circuits the engine's significance is even more important in the quest for ultimate performance.  This was certainly the case at Eagles Canyon raceway, the 2.5 mile road course set in the north Texas hills and site of the 2009 IKF Road Racing Grand Nationals. With over two hundred entrants traveling from around the United States the event would be especially important to SRS Engines to prove the power level and continue development of the SRS Engine portfolio against the best road racers in the country. | |
Read more...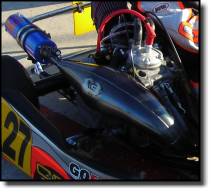 Why pay more money for a Stock Honda CR125 package, so you can finish behind an SRS customer?  Whether you're in Vegas or Texas, that just doesn't compute!
The SRS Engines Stock Honda CR125 setup was painstakingly dyno developed to locate those hard to find tenths of a horsepower that various tuning combinations can make. When all the SRS increments of power are added together, the result is SuperNationals winning performance for both the SKUSA S4 and S5 classes.
Each stock Honda CR125 is serialized and meticulously assembled to insure that critical tuning dimensions are held within tight tolerances. This insures legality and consistent performance. A log is kept for each engine that contains notes of those critical tuning dimensions when the engine is built and each time the engine is serviced at SRS. Each Stock Honda CR125 is built as good as it can be and SRS service keeps it that way.
If you want to own the SuperNationals or any other podium like SRS equipped drivers do, call 903-769-4140 now!