SRS Engines Offers 2001 Honda CR125 Power Valve Plugs
Top performing, precision, investment cast power valve plugs for the 2001 CR125 cylinder are now available from SRS Engines.
The shape of the exhaust duct in the 2001 cylinder is critical to power production. The stock 2001 power valve shape sacrifices peak power to give the engine a broad motocross power band that has good response as low as 6000 rpm. Since stock 125 shifter karts operate above11000 rpm most of the time, they can ignore low rpm power in trade for power gains above 11000 rpm.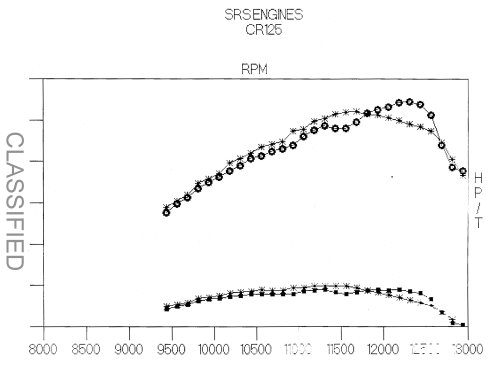 The dyno chart above compares the power curves of a top performing 99 cylinder to a 2001 cylinder with SRS power valve plugs. The 2001 cylinder developed over 1.0 hp more peak power and up to 2.5 hp more at 12400 rpm than the 1999 cylinder. This will be the winning edge on a long straightaway.
SRS has identified the duct shapes in the 2001 cylinder that give top level performance in the shifter kart rpm range. These shapes have been captured with computer solid modeling techniques and incorporated into the SRS 2001 CR125 power valve plugs.
A precision investment casting process was used to preserve the shapes of the solid models with a high degree of accuracy in the production power valve plugs. When the plugs are installed in the cylinder and properly blended for smooth transitions between the cylinder and plugs, the maximum power potential of the stock 2001 cylinder can be achieved.
For more information regarding the Honda CR125 Shifter Kart Engine (or any kart racing engine!), call SRS Engines at 903-769-4140 or use our convenient contact form.