Superior Fuel Delivery Unveiled
The All New SRS Engines Hybrid Float-Twin Pump Carb System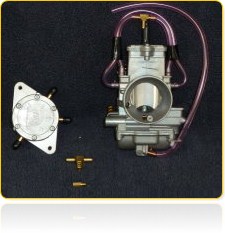 Testing is complete and the results are exceptional. Relative to the twin pump fuel re-circulating systems traditionally used today in SKUSA stock CR125 shifter karts, the new SRS Engines Hybrid Float-Twin Pump Re-circulating System performs better in every track test and dyno test we ran.
On the dyno the new SRS Hybrid system with the stock Keihin PWM38 carburetor showed a horsepower increase of 0.5 between 11000 and 12000 rpm with no negative side effects through the power range. The increase comes from refined control of the fuel mixture (i.e. the richness or leanness relative to rpm). In the former twin pump systems, the main jet and pilot jet could be used to alter the mixture curve to gain more performance in parts of the rpm range but not all. The SRS Hybrid system utilizes the stock float assembly to limit the fuel level in the float bowl to achieve the optimal fuel mixture throughout the power band.
Track testing confirms benefits from the dyno turn into real, usable, on track performance. A number of SRS test team drivers utilized the new system and all report an increase in response and engine power. Relative to the standard twin pump re-circulating system, the SRS Hybrid float carb system improved lap times around 0.15 second at the short 1/2 mile track at Denton Texas and around 0.3 second at the 3/4 mile Norman, OK track.
The SRS Engines Hybrid Float-Twin Pump Carb System is optional at no additional cost in SRS stock 125 engine packages. Your current stock 125 engine can be can be upgraded to the new SRS Hybrid system either through a complete replacement carb and pumps package or retrofitted to existing twin pump systems at a surprisingly low cost. For more information, call us at 903-769-4140 or visit us at SRSengines.com.