SRS Blueprinted 411
Always start rich and lean the jet until maximum performance is reached. Never run leaner than the maximum performance jet size. The maximum performance jet size will vary with weather conditions. If two jet sizes run the same, always revert to the richer jet.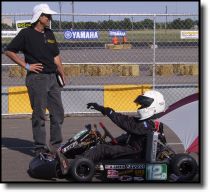 SRS Engines is the first of its kind, a National Level Race Kart Engine Builder in Texas. Since its inception in 1998 SRS Engines has evolved into a top tuner of Stock Honda CR125 engines for shifter karts, Yamaha KT100 engines for clutch karts and IAME Parilla Leopard and Gazelle Touch and Go (TaG) karts.
Untold hours of dyno tuning and track testing have resulted in engine packages that power national event winners. 2008 SKUSA Supernational through 2011 Springnational winners can testify that SRS Engines builds fast Honda CR125's that have the power and reliability to win national and regional races. SRS prides itself on delivering engines that duplicate those setups to all its customers.