SRS Blueprinted 411
Increasing the octane level does not gain a performance advantage in the S3 spec Hondas, but prevents engine damage from detonation.  Preventing the engine damage from detonation by increasing the octane level of the fuel will keep the current performance level, but reduce the spec Hondas' top end maintenance cost without changing the engine rules.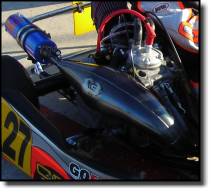 Why pay more money for a Stock Honda CR125 package, so you can finish behind an SRS customer? Whether you're in Vegas or Texas, that just doesn't compute!
The SRS Engines Stock Honda CR125 setup was painstakingly dyno developed to locate those hard to find tenths of a horsepower that various tuning combinations can make. When all the SRS increments of power are added together, the result is SuperNationals winning performance for both the SKUSA S4 and S5 classes.
Each stock Honda CR125 is serialized and meticulously assembled to insure that critical tuning dimensions are held within tight tolerances. This insures legality and consistent performance. A log is kept for each engine that contains notes of those critical tuning dimensions when the engine is built and each time the engine is serviced at SRS. Each Stock Honda CR125 is built as good as it can be and SRS service keeps it that way.
If you want to own the SuperNationals or any other podium like SRS equipped drivers do, call 972-365-4394 now!