Tuesday, 15 November 2011 00:00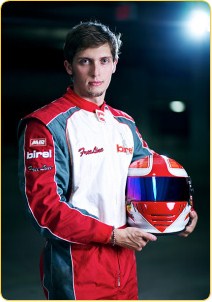 When LSU biology senior Steven Rougeou says he races karts, he's not referring to the Mario variety. Steven just wrapped up the WKA (World Karting Association) Modified 125 Shifter Road Race title for 2011.

Rougeou is a professional kart driver, and he's just one person in a self-acknowledged "gear-head" minority at LSU that combines a passion for driving and engineering to create and race vehicles with average speeds of 120 mph. His journey began with a circular dirt track, a red kart and an interest. Rougeou said when he was in sixth grade his father bought the kart from a co-worker out of mere curiosity.

The father-son duo practiced driving every day until a family friend recommended they enter a race in nearby Hammond, Louisiana. "In my first race, I flipped over and ended up with a concussion and a broken arm. My mom said I had to stop racing after that," Rougeou said with a chuckle. "But I didn't." Rougeou said he and his father continued to practice in secret, calling the sessions "sneak races." After weeks of practice, Rougeou returned behind the driver's wheel to race again. "[It] turned out we were pretty good. I was the youngest in my class and I kept up with the experienced racers," Rougeou said excitedly.

But it wasn't until Rougeou finally won his first race later that year that he and his father revealed the "sneak races" to his mother. "By that time, she was OK with it. Or at least she said she was," Rougeou said.
Read more...
Thursday, 09 July 2009 00:00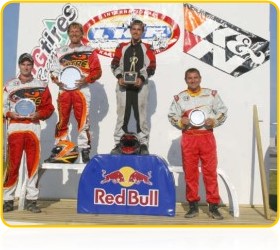 Waylon McCulloch started racing professional motocross and arenacross, and after so many injuries had to retire.  "Since my dad was able to do karts with me and my brother we made the transition into karts 4 or 5 years after quiting dirtbikes", said Waylon.

He started racing karts in January 2008.  With NO prior experience, he ran the SWRA Road Race Series and placed an amizing 2nd in both the 80cc Shifter senior I and Senior II classes.  After that successful 'rookie' season, Waylon moved up to the more powerful Formula 125 Shifter class with a winning SRS Honda CR125 engine package.  That combination hit the mark and helped Waylon win the 2009 Formula Limited national championship at the 2009 IKF Road Race Grand Nationals!

Commenting on how the power and reliability of the SRS engine makes it easy, Waylon added, "I'm not sure what do to do to a chassis yet, I just know it is an Intrepid and I just drive it the same set up at every track since i don't know what to change yet, but i'm trying to learn what to do.  One thing's for sure.  The SRS engine never lets me down!".

One of Waylon's goals for 2009 is to win SWRA Road Race Series Championships in the ultra-competitive Formula 125cc and Formula 125 Limited classes...  "I'd like to win at least one SWRA series championship this summer and with the SRS motor package, I believe i can accomplish that goal", said the new 2009 IKF "Duffy" winner.
Thursday, 02 July 2009 15:25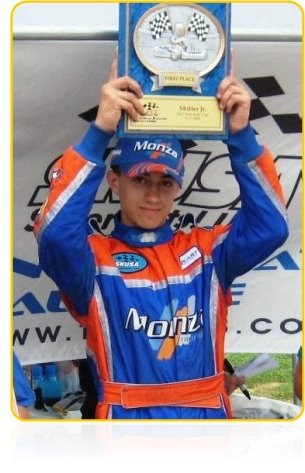 With the SCSC season already at its halfway mark, young Lukas Johnson has emerged as a leading contender in the very competitive S5 Junior Stock Moto Class season rankings. With a third place finish in the opening race at Gateway International Raceway followed by impressive wins at both New Castle Motorsports Park and Mid-States Karting, Luke sits atop the season points standings followed closely by last year's series champion Kaylee Granberg.

Luke has made a seamless transition into shifter kart racing from his previous stints in HPV and Tag Junior. Leaving the Midwest Sprint Series was a difficult decision for the young racer but one he doesn't regret. "We made a lot of friends last year in the MWSS, but the switch to shifter kart racing in the SKUSA CSC was something I've really wanted to do for a couple years. The people are so friendly and have really made us feel welcome. Plus, the competition is off the charts" said Johnson.

Johnson credits much of his success to the support he has received from River Lake Racing and SRS Engines. "Chris Enderlein from River Lake is a great tuner (in addition to being a good friend) and his setup on my Monza Z32A chassis has been spot on. I know I can always count on him for guidance as I continue to develop my driving skills". Johnson also is quick to give credit to John Sefcik from SRS Engines. " Since this is my first year in a gearbox kart I didn't know what to expect from the motor. SRS has provided a great engine package. I hope to add to the success they've achieved at both the regional and national level."

Luke is looking forward to the remaining three races in the Central States Challenge series (www.centralstateschallenge.com) and planning a trip to SuperNat's in Las Vegas this fall. Future plans include racing at the prestigious RoboPong 200 in September at New Castle Motorsports Park. He is also hoping to participate in the annual Skip Barber Scholarship Shootout this winter for a chance to compete against the best young racers in the country.

Like any young driver looking to develop his talents, Luke is always interested in speaking with potential sponsors. He can be reached via his website.